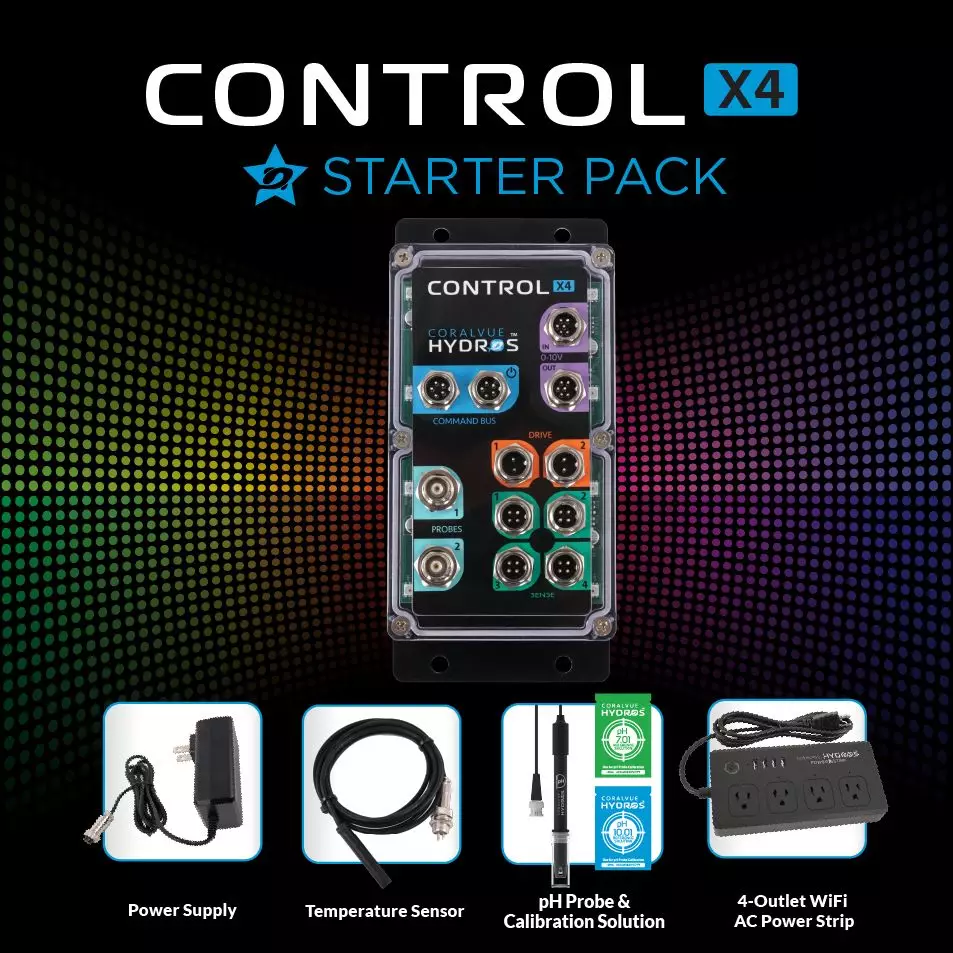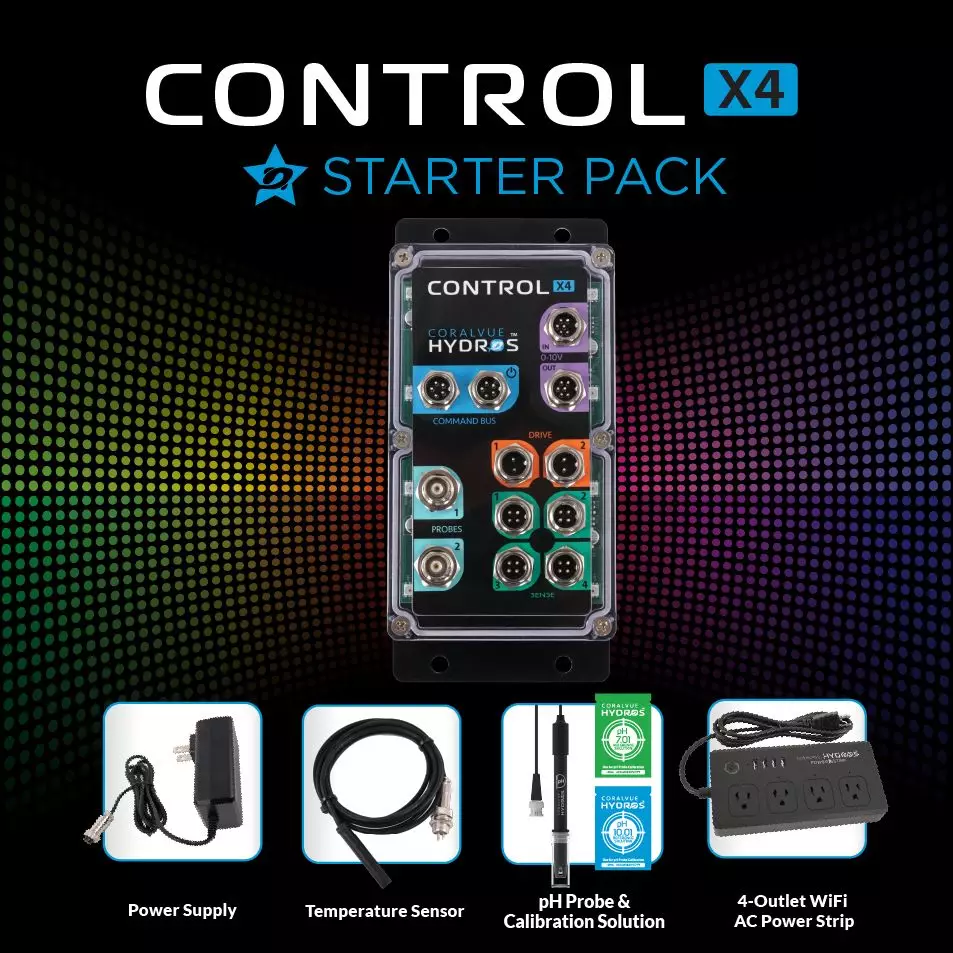 HYDROS Control x4 Starter Pack
Description
Additional Information
Reviews
You can achieve Ultimate Aquarium Control with the HYDROS Control X4 Starter Pack
This starter kit contains everything you need to control and monitor an aquarium that is healthy, which includes the Control X4 device, HYDROS App temperature sensor, pH probe, and much more. Installation is quick and simple, which makes this the ideal kit for beginners as well as advanced hobbyists. The majority of HYDROS products are developed to be assembled, tested, and maintained by the USA.
WhataEUR(tm)s Included:
1x Control 1x Control
1x Power Supply
1x Temperature Sensor
1x pH Probe & Calibration Solutions
1-Outlet 4-Outlet AC WiFi Power Strip
HYDROS App
About Control About Control
HYDROS Control X4 is a robust and robust aquarium controller . It will monitor pH, temperature ORP, temperature, and level, to mention just some, as well as control timers, pumps, sensor for level, and more, thanks to its sophisticated design. It can function as a stand-alone controller for freshwater and saltwater aquariums as well as pond applications. Alternatively, it can be integrated with various HYDROS Controls to create an even more comprehensive system. It is a Control X4 operates on a HYDROS Safety Net that is IP65-rated to help keep your equipment as well as the aquatic life thriving and healthy.
Flexible and expandable without the need for additional modules
Utilize any HYDROS device on its own or connect several devices together to create an overall automated aquarium system with no single source of failure for communication. Each HYDROS item is sophisticated device equipped with its own processor and ability to schedule.
IP65 rated AEUR" Splash Proof, Dust Proof as well as Secure Connection
The HYDROS devices appear like industrial controllers as they're designed to work in the harsh environments of marine aquariums. The IP65 rating HYDROS enclosure, as well as the connectors that resemble aircrafts will last against splashes, salt spray and corrosion.
What can you anticipate out of Your HYDROS Intelligent Device
Manage the operation of your HYDROS device(s) remotely from any location around the globe using the most advanced technology HYDROS cloud-based application
The ability to monitor and control your HyDROS device(s) local to WiFi
A powerful dual-core 32-bit processor that allows control-related decisions to be made in each device
Internal health monitoring monitors to provide the CPU's voltage, current, and voltage status, as well as the internal temperature of the device.
HYDROS Control Bus connection to transmit data as well as power to devices
Port for Sense (4 available)
The Sense Port is a new idea in measuring parameters in aquariums. HYDROS devices include several Sense Ports. The Sense Port is a generic input port that is able to accept data from various types of sensors.
The Sense Ports currently are able to support:
Temperature probes
Level sensors with optical optics (single and double)
Capacitive non-contact liquid level sensors
The Rope leak detector
Point leak detectors
Flow rate sensors
Magnetic switches
Switches with push-button buttons
Drive Port (2 Available)
Drive Ports Drive Ports provide switched 12V DC power to run small lighting, motors pumps, fans and other equipment. The precise current provided by each port is continually controlled by Control. Therefore, when a pump or motor ceases drawing current, or draws too muchcurrent, you'll be notified immediately.
Accessories that are currently supported include:
Automatic Top Off (ATO) pumps
Cooling fans
Cabinet LED lights
Solenoids to manage reverse the osmosis system
Proto Port (2 Available)
A single of the impressive ports in the HYDROS Control X4 is the Probe Port. It allows you to attach an ORP probe or pH-based probe into this port. Probe Port but, this isn't your typical pH probe! The circuitry is built upon an extremely high-quality input chip specially made for these kinds of probes. Each input to pH provides digital isolated galvanic signals from other components part of the unit. Galvanic isolation blocks interference with other equipment attached to the system such as pumps and motors. Digital Galvanic isolation ensures the precision in the measurements by changing the signal into an electronic domain prior to crossing the threshold of isolation.
1-10V Port
The HYDROS Control X4 has 0-10V I/O (input and output) ports that permit it to be controlled and receive orders from various HYDROS products and accessories that are made by other companies. An older automation system could be connected to the ports that are 0-10V. They can be used to control variable speed pumps. They can be used to monitor simple switch closures, such as push buttons or floating switches.
Command Bus (2 Available)
The HYDROS Command Bus is used to provide power to the Control and interact with different HYDROS devices to provide the ultimate security."
Dimensions
11 × 7.25 × 5.75 in