Reefer-S 1000 G2 – Black Aquarium Only
REEFER-S G2
Super-sized Premium Reef-Ready Systems
Description
Additional Information
Reviews
19mm ultra-clear glass
The 19mm low-iron glass provides a superior clarity, showing the true colors of your reef inhabitants.
Fortified internal framed aquarium
REEFER-S aquariums sport an elegant jet-black internal frame, which fortifies the 19mm thick ultra-clear glass.
Dual pump returns
The dual side-facing return pump outlets create an optimal flow in the aquarium. The outlets can be attached to a single or dual pumps.
Surface skimmer
The central overflow box is has a large surface skimmer, with removable comb parts for periodic cleaning.
Silent downflow system
The regulated silent downflow system comes with an improved, high precision valve for finer flow adjustments, as well as an emergency downflow bypass pipe, with unrestricted flow to the sump.
Aluminum marine spec cabinet
The marine-spec cabinet has a replaceable exterior, attached to a superior and robust aluminum super structure.
Assembly-ready piping
No gluing required! All pipes are preformed with quick connectors at all joins. Bulkhead connectors suitable for both Metric and USA standard pipes can be purchased separately, allowing you to customize your sump piping.
High precision valve
Silent downflow system with a new high precision valve, enabling finer flow adjustments.
ReefMat Ready
Plug & Play instalation for ReefMat 500/1200, together with Refugium.
Professional main sump
The main sump is refugium-ready, containing all the filtration functions, and has an adjustable height skimmer chamber, enabling you to set the water level between 20-28cm (7.9-11) for optimal skimmer performance.
Extension sump
The extension sump can be used for a dedicated frag tank, a larger refugium, or simply for extra filtration. Alternatively, the extension sump can be disconnected from main sump, and used as an R/O reservoir or for saltwater changes.
Chiller & hardware chamber
All REEFER-S models come with a separate chamber for a chiller, controllers or other equipment.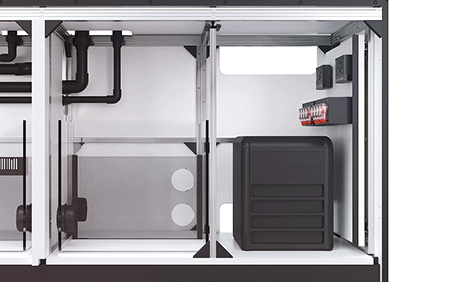 Control panel
Provides easy mounting and access for controllers and other equipment. *Actual color of cabinet interior is black.
Hidden adjustable feet
The adjustable feet allow perfect levelling on any surface, and are hidden by the cabinet exterior for a more elegant look.
SYSTEM VOLUMES
Total system water volume 265 gal Aquarium volume (display) 210 gal In-cabinet sump volume 55gal
DISPLAY TANK DIMENSIONS
Length 82.7" Width 26 3/4" Height 25.6"
TOTAL SYSTEM DIMENSIONS
External length 82.7" External width 26 3/4" External height (excluding light unit) 60"
GLASS
Ultra-clear front glass 3/4" Ultra-clear side glass 3/4" Bottom glass 3/4"
LIGHTING
DLX Version 3 Units (RL160s) (optional) Nominal total output 480W Integrated WiFi control via ReefBeat app
RETURN PUMP
Main system pump Recommended flow: 2,400 gph (pump not included)
FILTRATION
Protein skimmer Recommended:Recommended: RSK 900 Water flow 530 gph air flow 235 gph (not included) Mechanical filtration (bubble trap) Micron filter bags (225 micron thin-mesh filter bag) 2 Filter media cup 2
SUMP
Reefmat ready removable media chamber ReefMat 1200 Ready Adjustable height skimmer chamber Refugium-ready RO reservoir volume Not included
CABINET
Marine spec cabinet Chiller-ready Aluminum cabinet frame
Dimensions
88 × 30 × 38 in